Full-service circular economy company Syklo is a good partner
Circular economy company Syklo's efficient processes are responsible for separately collected commercial waste, from ship rope to boards and from mineral wool to agricultural plastics. By centralising all waste to Syklo, materials do not need to be transported to different parts of Finland for special treatment, as the entire recycling process takes place in the same centre. "Because of the collaboration, many companies have already achieved significant cost savings," says circular economy manager Harju-Autti.
Huge quantities of compactor containers and Roll-On Roll-Off Skips containing separately collected waste fractions such as plastics, mineral wool, plasterboard, and timber travel daily to Syklo´s circular economy company from construction sites.
"We and the waste management companies and waste collection companies work well together. They deliver separately collected waste to us from construction and renovation companies and from industry," shares Syklo's circular economy manager Heikki Harju-Autti.
The modern sorting plant can adapt to the treatment needs of many different types of commercial and municipal waste on a full-service basis. Companies are only left with the responsibility of managing waste transportation or other logistics.
The recycling centre is interested in hearing its customers' wishes in order to further develop. The centre is designed in such a way that if companies need to process new or more special waste fractions, it is able to quickly integrate new robotics into its processing line.
"The exception is hazardous waste, which we currently do not process. It also makes the most sense to transport small loads directly to our delivery partners, of which there are several in Northern Finland," Harju-Autti specifies.
Special treatment under the same circular economy company
It is undeniably eco-friendly for companies to have a high recycling and reclamation rate, as in addition to having environmental benefits, it reduces their recycling costs. Mixed waste fees are increasing especially in construction, and the law also increasingly requires waste and recycling management to be performed in a way that preserves the environment.
"For example, small amounts of pipes or empty liquid containers as waste can have high unit prices if their recycling stages are not centralised but rather, the waste is treated in small batches and transported to different locations for further processing or energy recovery," explains Harju-Autti.
Of the individual challenging waste fractions, Harju-Autti highlights, for example, agricultural polyethylene stretch films. Their qualities and standards vary radically, which is why it must be possible to separate them before further recycling.
"We are one of the few operators in Northern Finland that can process agricultural plastics into the form required for further processing and can utilise the parts that are not suitable for recycling as energy. In addition to plastic waste, the reclamation and recycling of mineral wool, for example, requires processes that can be carried out at the Oulu waste treatment plant."
Waste is valuable recycled material
Of the construction and demolition waste, as well as of the commercial and industrial waste brought to Syklo, an increasing proportion can be reclaimed as raw materials for new products—only 10% of waste ends up in the incinerator after sorting. All other material can be modified into high-quality recycled raw materials or is recovered. Companies receive a final report on the processing and recovery of the separately collected fractions.
"Our intention is to open sorting facilities elsewhere in Finland in the near future. By looking for possibilities instead of impossibilities, we will steer all of Finland's circular economy onto a development course," Harju-Autti envisions.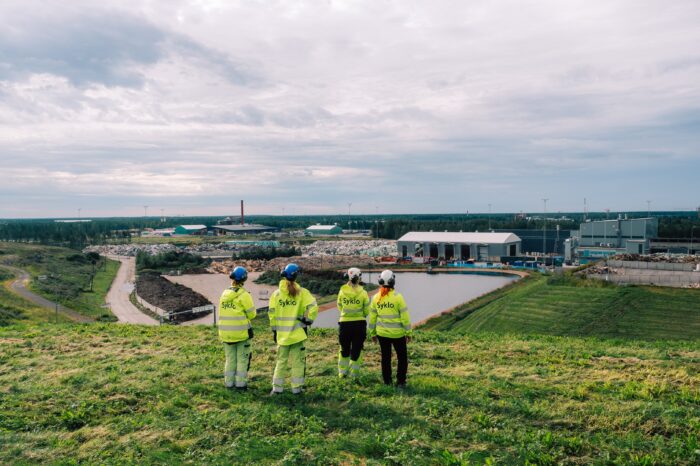 More about sorting of waste in Syklo