SRF waste is converted into heat and electricity
As a pioneer in the circular economy, Syklo makes non-recyclable SRF waste into energy at its treatment plant in Rusko, Oulu. This Solid Recovered Fuel, processed from SRF waste, will continue its journey to Oulun Energia's biopower plant, where it is utilised for household electricity and heat production.
In its production, Syklo utilises mixed waste from construction sites as well as packaging waste from commercial stores. Waste that arrives at the production plant is sorted and the materials suitable for recycling are sifted out to be delivered to different partners for further use. The remainder of the SRF waste goes through a process that will result in Solid Recovered Fuel (SRF). It generally contains wood, plastic, cardboard, and paper that is unsuitable for other material utilisation.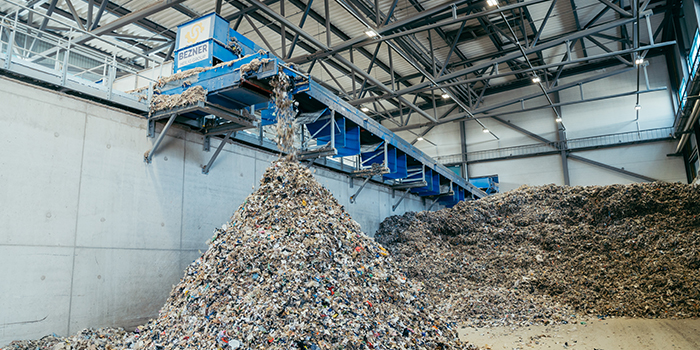 Solid Recovered Fuel is temporarily stored at the waste treatment plant.
"Solid Recovered Fuel is an eco-friendly product of good calorific value. The use of Solid Recovered Fuel significantly reduces the need for fossil fuels and virgin biomass," shares Jukka Rissanen, production manager at Syklo.
Processed SRF is light and dense, making it very easy to store and transport. Processed Solid Recovered Fuel bales are transported from Syklo to Oulun Energia's biopower plant, where it is converted into electricity and district heating for the residents of the Oulu region. Nothing is wasted at Syklo, as the ash that is produced as a final product is used as fertiliser for forestry and in excavation.
"On an annual basis, Syklo treats more than 90,000 tonnes of waste, of which about 40% becomes Solid Recovered Fuel. This is an environmentally friendly way to reduce the amount of waste and greenhouse gas emissions," Rissanen says.
Syklo is a part of the solution to the global problem
Global interest in the circular economy and in the prevention of global warming has accelerated the search for eco-friendly waste solutions. In fact, Jukka Rissanen shares that Syklo offers a grandstand view of how to work together to find solutions to global problems.
"This isn't really work that's sexy to the media, as we're working with waste, but it's really interesting and thought-provoking," Rissanen laughs.
Syklo strives to develop its operations itself so that we can make even more effective use of waste in the future.
"This is an industry of the future and, as we have read from newspapers, the green transition is well under way. For the survival of the planet, it is important that waste is effectively recycled. In the future, EU directives will require more efficient utilisation of circular economy opportunities and a reduction in waste incineration," Rissanen notes.
During his own employment history, Rissanen has seen how the circular economy and weighing environmental values have become a permanent part of all industry. That is why seeking work in the circular economy was an easy decision.
"In the past, I've worked as a supervisor at industrial production plants and been involved with various carbon footprint counters and maximising recycling. This provided a nudge to apply for work at Syklo," Jukka Rissanen explains.
The NIR instrument separates material that will become Solid Recovered Fuel from the SRF waste.
Quality monitoring of SRF waste and Solid Recovered Fuel
The European standard EN 15359 (in Finnish) for SRF waste specifications and classes has also been established as the Finnish standard (5/2012). The standard provides a system of mandatory specifications of SRF waste and classification of the fuel.
According to the standard, Solid Recovered Fuel is analysed over a 12-month production period on the basis of ten different batches of samples. Each batch of samples taken from SRF waste should be a composite sample for each sampling period.
After the 12-month monitoring period and research results, the SRF waste is classified according to its properties.