Operator Keränen's mission is accurate waste recycling
Circular economy company Syklo is working extensively in different areas of the circular economy. It is simultaneously carrying out new international research, reaching for the far future, and sorting waste locally at the plant in Rusko, Oulu. The smooth operation of the sorting plant is due to the skilled operators—the pioneers of the circular economy.
Jani Keränen, an operator of the sorting plant, has been a part of Syklo's circular economy team (in Finnish) since May 2022. The expert, who has worked as a maintenance fitter, machinist, and spare parts dealer, among other things, nimbly manoeuvres the challenges presented on the sorting line that are brought on by waste recycling and industrial and commercial waste.
"The sorting line goes through a lot daily. It requires good servicing and maintenance—sometimes also a little adapting. The conveyors and equipment are being worn out by the coarse waste moving through it, which doesn't really follow any norm; the material is of various different sizes and qualities."
During a normal day, work at the Syklo sorting plant includes maintaining the plant, i.e., operating it, cleaning it, and daily maintenance and servicing. Maintenance includes such tasks as repairing whatever part of the sorting line that happens to break at a time. And if everything goes well, there may be no maintenance during a work shift at all.
"For example, we recently adjusted the sorting line belt tensioning in order to correctly align it. Now it will work again until we get the necessary spare parts for it," Keränen explains the work he is doing while being interviewed.
Maintenance work is counterbalanced by work in the control room, where the operation of the equipment is closely monitored.
"In the control room, we monitor the process more generally using different cameras and angles. If there are blockages somewhere in the line, we go to remove them. We can also monitor the flow rates of the various equipment, using the changes to predict what needs to be done. This will also help us prevent blockages."
Our job is also to monitor the quality of the final products and the how full the skips are. Final products include recycled wood of different qualities, magnetic metals, non-magnetic metals, and fines suitable for earthworks.
A good team spirit apparent at the Syklo sorting plant
Before joining Syklo, Keränen gained experience at ABB and Elcoline, among others. One of the reasons he submitted an application with Syklo was because he had a positive impression of them as an employer. The impression has since been substantiated, as Keränen enjoys his work.
"With six months of experience, I can say that the team has been really welcoming from day one and it's easy to ask everyone for help if I need it. The atmosphere here is very nice—there's a feeling of team spirit. Nobody is working alone."
Keränen also praises his work partner, Timppa.
"Timppa has trained me to work as an operator, among other things, and it has always been easy to ask him if something is on my mind."
Work-life balance an important part of enjoying work
The shift system in use at Syklo has made it possible for Keränen to have a good work-life balance. He has time for hobbies, to study, and to spend time with his family.
"The shift system in use allows us more time off, even if that means longer, 12-hour, working days. The shift cycle consists of two morning shifts, one day off, two night shifts, four days off, three morning shifts, two days off, three night shifts, and four days off, after which the cycle repeats from the beginning."
In his spare time, Keränen does downhill cycling, works on motorcycles, goes to the gym, and studies mechanical engineering at the Lapland University of Applied Sciences.
"Fortunately, there is a very encouraging atmosphere at Syklo when it comes to further education, and I was open about my education aspirations even as I was applying for the job. And the employer even grants three paid school days per academic year."
Working in the circular economy is also an important part of enjoying his job for Keränen.
"I get to work on something impactful. It is important to produce new energy and recycle waste in such a way that sees as much of it as possible reused. One of the things that inspired me to apply at Syklo was its solid foundation in the Oulun Energia Group (incorporation into Syklo took place in June 2022). Oulun Energia has a good reputation as an employer and I also consider it a good place to work."
Keränen names his positive attitude as his ordinary superpower.
"I always try to take a positive approach to everything."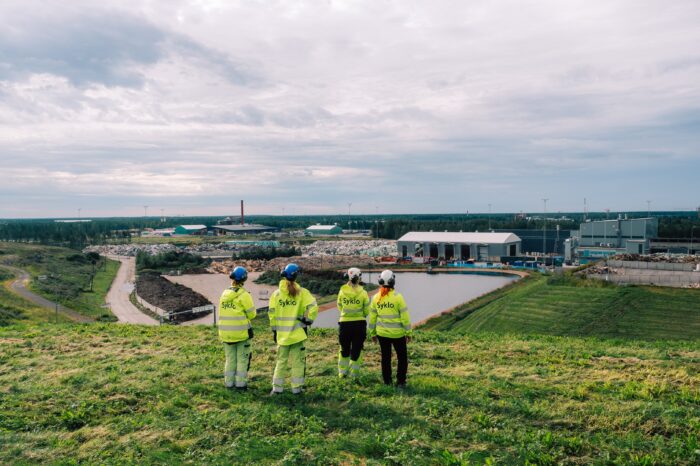 Work for Syklo?
Read more about our professionals