Waste management in Oulu will continue during the revisions
The machinery in Rusko's sorting plant will be closed for a couple of days about once a month. However, that does not mean that waste management will stop in Oulu. During the regular revisions, the plant undergoes major maintenance, servicing, and development work that require longer production interruptions. Antti Mattila, who is responsible for the maintenance and availability of the sorting plant, shares what goes on at the plant during this time.
Waste management at Oulu's sorting plants do not pause during a maintenance break
There are approximately 20 machines and 40 conveyors at the waste sorting plant that require periodic maintenance. During the revisions, these undergo major servicing, such as abrasion welding and blade maintenance for the crushers, as well as changing of the conveyors' belts.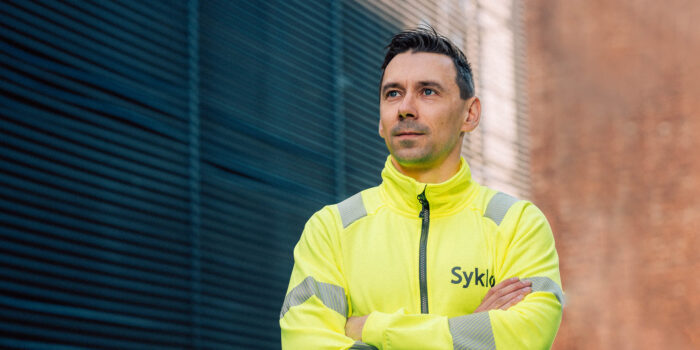 "During revisions, we also promote development projects on a case-by-case basis, concerning the plant's safety, availability, or fire protection, for example. The time pressure is somewhat reduced when the plant is stopped," describes Antti Mattila, production engineer at Syklo.
However, waste management does not stop in Oulu at any time, even if the machines have stopped.
Work efficiency and safety ensured with careful design
During the revisions, about 30–40 external employees will come to work at the Syklo sorting plant in Rusko. This situation requires good coordination and seamless cooperation between the various work groups.
"In a small facility, it is instantly noticeable when dozens of contractors jump into work. The most important thing is maintaining good occupational safety and resource allocation: that everyone finds their own tasks, the goals are clear, there are the necessary number of lifts, harnesses, and scaffolding solutions, and there is good guidance on safety interlock practices," lists Mattila.
Action never ends at the Syklo waste sorting plant during revisions
There are many different skills involved. The revisions require electrical engineers, mechanical experts, welders, and conveyor experts. One job could involve cooperation between experts of various fields.
"The generation of waste does not follow a time schedule."
According to Mattila, two days is a small window of time. The break cannot be longer, as waste is generated in society even during the revisions.
However, the amount of waste fractions varies season to season. At the heart of winter, less construction waste is generated at the largest construction sites, as the focus of construction is indoors. Consumers also clean out their storage rooms, for example, more during the warmer months.
"We can never say that we are completely closed to the reception of waste. If construction site skips and trailer loads are full, we must find space for them. The plant always has reception capacity for our contract customers," Mattila states.
In addition to revisions, Rusko is also subject to continuous routine maintenance and necessary service rounds.
How waste management works?
Read more about our sorting machines!